As I stand in front of my students in my classroom at San Jeronimo Bilingual School (SJBS), I always think of all the steps that brought me here. My favorite memory as a BECA student will always be the help and support the program provided to me and my family. Those early years at SJBS made me feel loved by the BECA community. 
Back then, I always said I would become either a teacher or a psychologist. I used to play "teacher" with my cousins, giving imaginary classes, and when I finally was old enough to decide what to do, it was a special teacher during my high school years who truly inspired me to pursue teaching as a career.  When I entered BECA as a teacher, I realized that I was making the right decision and it motivated me even more because I love working with and helping other kids.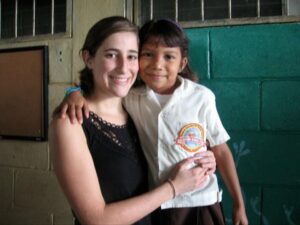 I have been with BECA for almost three years. One of the biggest challenges I faced was communication with parents, since they thought I was too young to be a good teacher. The other teachers and I have worked hard to show the parents that we can teach well, and we have succeeded!  I also had to balance teaching and studying, which helped my time management skills and confirmed for me that I love teaching.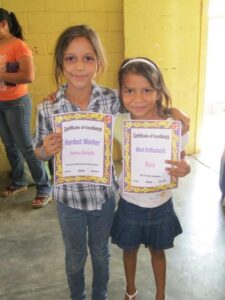 For me, BECA is an open door of opportunities. It supports families in need and helps others make a positive impact by coming back to the school to teach. If I could send a message to my ex-teachers, I'd want for them to have the opportunity to see me teaching, because I have a beautiful memory of each one of them and I try to implement their teaching strategies in my classes. I would like for them to feel proud that, after being their student, I am now following their example. They inspired me when I was a kid!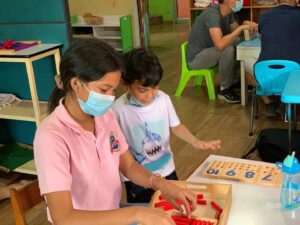 Now, my favorite moments are when the students show me they are learning what I have taught them, and I am proud when the parents feel happy about what their children have learned.  I also appreciate the love they give me every day. This year, I want to implement everything I learned from the training we had, to teach my students better and in more fun ways. I also learned about the growth mindset, which I am excited to share with my kids!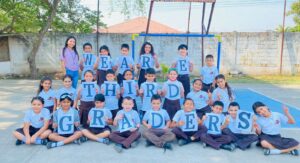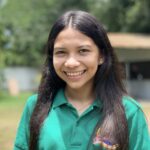 Maria was born in San Pedro Sula, Honduras.  She graduated from San Jerónimo Bilingual School and continued her studies in the Kiddy Kat Morazzani Institute receiving her high school degree in science and humanities.  Now, she is working for BECA while studying to become a professional teacher.  Working for BECA is a privilege for Maria as she reflects on all BECA has given her and her family.  She now knows it is her time to give all of the opportunities that were given to her to her community.